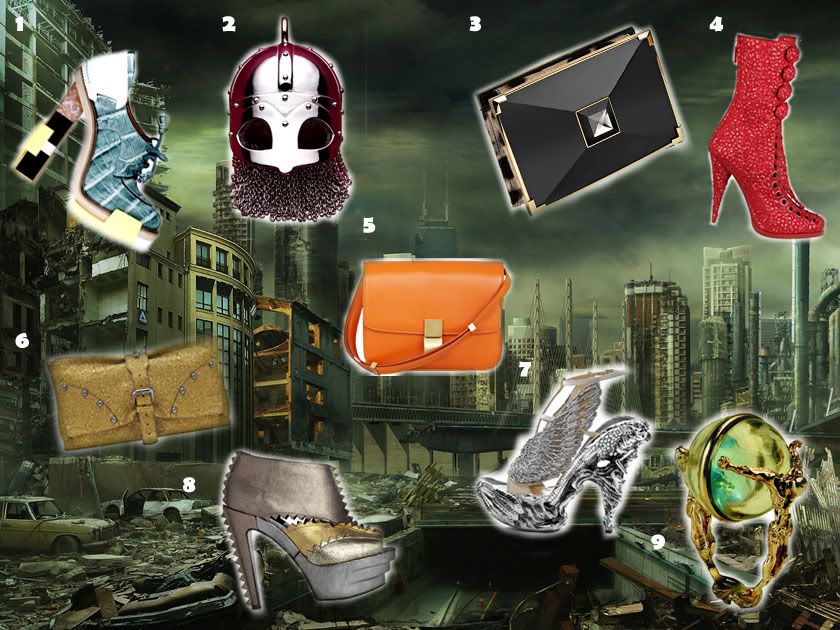 So fashion crowd is pretty much done with Spring and is moving on to Pre-Fall and Fall. I never pay much attention on this blog to accesories, I rather talk about clothes themselves or just a general critic about something in the industry.

It's a funny thing, I don't normally wear that much accesories, I don't like to carry a watch, and sometimes I just hang something to my neck or use my cool gas mask ring I bought in H&M. But I do like them, in my opinion it's the most accesible item one could aspire to have from your favorite designer, for regular fellas like me who can't really afford ready to wear,at least not a new designer wardrobe each season .

Everything has a number and if you search on the list you can know which is from whom:

1Balenciaga loafer
2Aurélie Biederman mask pendant
3Jimmy Choo clutch
4Givenchy bootie
5Celine handbag
6Mulberry clutch
7Alexander McQueen heel
8Bruno Frissoni bootie
9Delfina Deletrez ring

I'M PLANNING TO DO SOON A KIND OF POST ABOUT ME, JUST NOT THE TYPICAL INFO I SHARE BUT A LITTLE MORE PERSONAL, SO I WOULD LOVE TO GET VIA COMMENT OR TWEET (@TENORDEMESONES) OR FB MESSAGE WHATEVS, ANYTHING YOU WANNA KNOW ABOUT ME, I'LL GLADlY TAKE YOUR SUGESTION UNDER CONSIDERATION FOR THAT POST, THANKS A LOT.