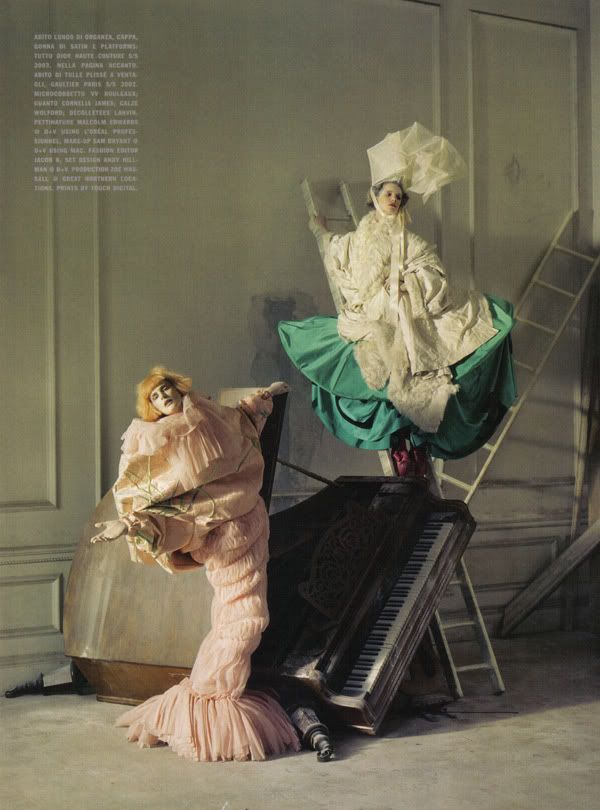 Early this week I finally purchased the March issue of Vogue Italia, one that it was definitely worth spending the 239 pesos that costs. If I had more money I would totally buy it every month, but since it's not easy then just March. In the couture supplement there's a gorgeous editorial photographed by Tim Walker, the one that's illustrating this post, it's somewhat a retrospective of couture from the last 6 years, and it features emblematic gowns from the houses through this period.
I bet you don't hear much about Haute Couture, but to describe it briefly it's a french term used to classify clothes that are made by the highest quality possible and has a determined number of fittings. The best quality including expensive luxurious fabrics, specific focus on detailing and most of the time hand-finished. In France the place where we could say couture started, all clothes up to 1900 where made this way and the wealthier crowd continued to mainly dress like this until the 1940's.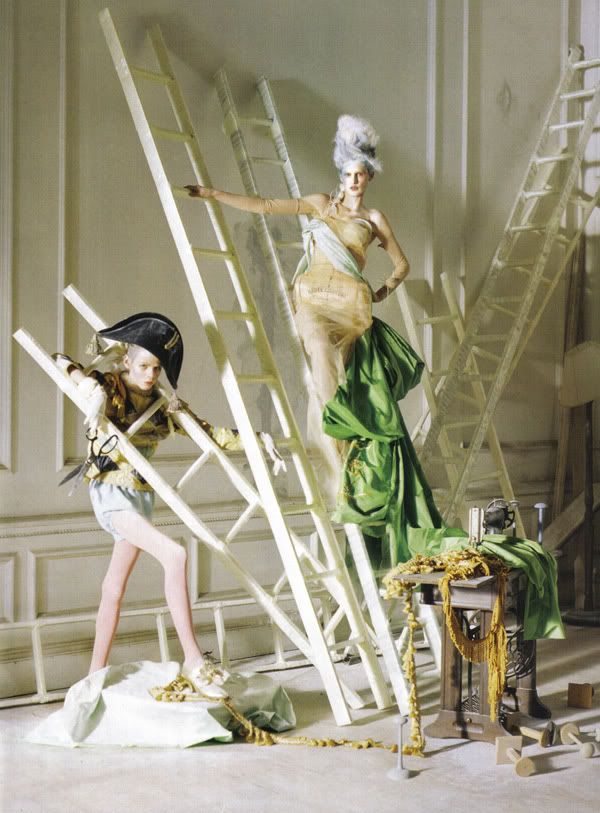 Couture encountered Pret-a-Porter, which is what all of us wear now. Clothing mass produced, sold by sizes, in huge deparment stores or by international chains.
So what's the future of Haute Couture when this society don't dress in it anymore? They say it's only time for it to disappear.... But I completely disagree. Karl Lagerfeld says that middle-eastern women buy 26 looks from his couture collections for Chanel in less than half an hour, so well it kinds of sells just on the other side of the world. And the ones that we get to see using them but most of the time are wearing it as a loan are movie stars. Red carpets are one of the last remaining sites for couture sighting.
As I see it Couture accomplishes two big objectives: 1.- Gowns are promotional items. PR offices see in Couture the opportuniy to dress celebrities and gain respect and recognition among the normal crowd who will want a piece of Chanel, who Diane Kruger was wearing it. So they'll go and buy a nice Chanel perfume, cause it's what we can afford, or sunglasses or a bag. Sad but ture. 2.- Haute Couture are incredible pieces which are closer to art than to a basic t-shirt, and it just give us great photographic material. The illusion of this fairytale world, which looks great published on magazines. We only get to see the final result, but the people who are able to touch, wear, photograph, style, and make couture are really lucky.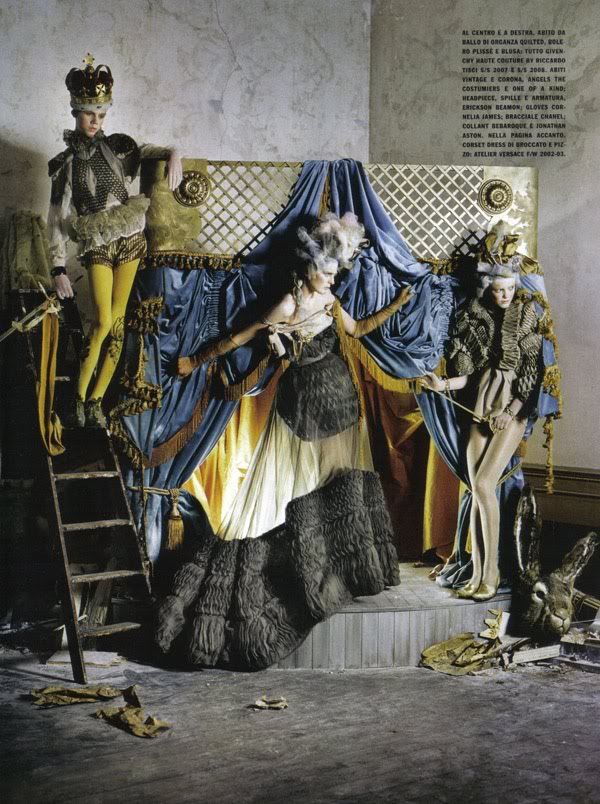 To wrap this up, Couture in any case needs a little editing to survive, though the collectios are normally shorter, an editing eye also saves the company big bucks. Finally I would personally love, to see more fashion houses doing couture. It would be awesome to see Stefano Pilati do couture for YSL, Alber Elbaz doing it for Lanvin and even Miuccia for Miu Miu which always presents their show in Paris.