The death of Alexander McQueen was perhaps, the most shocking moment for contemporary fashion. However, in these days everything is about business and almost instantly Sarah Burton became the new creative director of the brand. She among other things, helped finish the last collection Mr. McQueen created, then she did resort and now the first complete ready-to-wear collection was shown on Schedule in Paris Fashion Week for Spring 2011.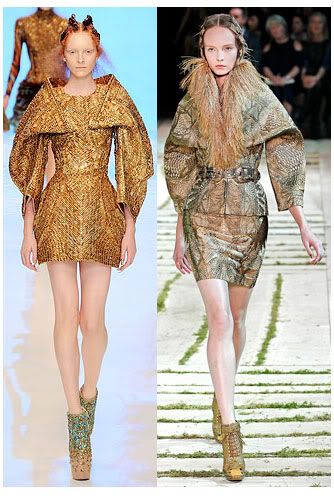 Spring 2010.

Acknowledging she has a huge burden on her shoulders, Sarah thinks that as a woman the brand during her reign will become a softer less theatrical version of the original creator. After all, she really is the best possible option to carry on with the house design, since she worked for almost 15 years with him. For Spring, it showed. The inspiration came from some organic place, and all the signature McQueen silhouettes were worked in and adapted to go with the theme of the show. Rigid short dresses with the origami-like folds and pleats were done in a printed yellow leaves fabric, sharp jackets, tailor coats and ultra low trousers were done in white and navy, the ones in navy were embroidered with gold leaves. Other pieces included monarch butterflies, raffia-like straw, and feathers, a gown was done entirely in feathers, on top short wide ones and marabou on the trail.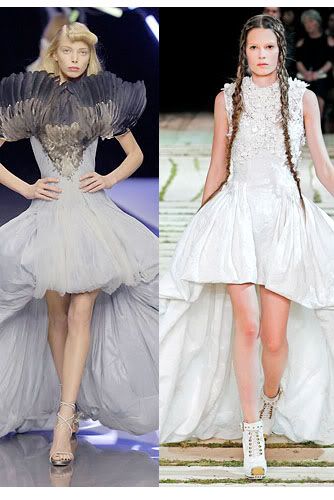 Spring 2008

Everything did felt less intricate, but talking about McQueen doesn't mean plain at all. And of course the shoes were also signature creations, with the highest heel or platform possible; booties, sandals and wedges in black cream and gold were a nice contrast to the concrete runway with grass sprouts on the unions of each plaque.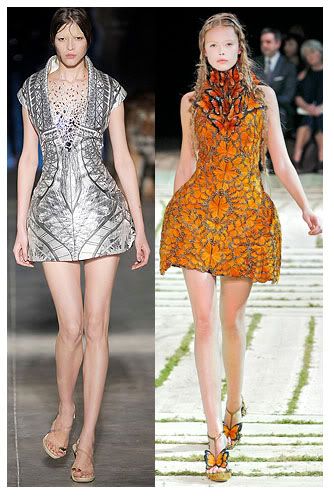 Spring 2009

Though it was a nice first show, every look that came out of the runways was a silhouette already done in a previous collection, let's say from 2005- to the past Spring. And let's be honest, the inspiration was not that strong to help her develop a greater show, Sarah certainly has proved to be up for the job and maintain the great standards of quality still delivering some semi-couture looks, but for the next shows her innovations for the brand need to be presented, as well.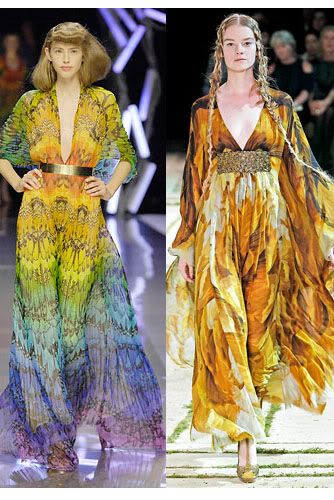 Spring 2008
Each look from the left (Spring 2011) is compared to a past Spring collection.